Several accessories are supported by the RemoteTx amateur radio remote control system that make operating more like being in front of the real radio. Below is information about support for a VFO knob and PTT switch control.
---
VFO Knob (USB connection)

Two programmable USB Multimedia knobs have been tested and can be configured for use as remote control VFO knobs. This works for PC's and Mac's as well as newer iPad's, iPhones and Android devices with an OTG USB adapter.
Knob#1 (Pictured Right): Amazon Link
(Unfortunately went out of Amazon stock 5/9/2020)
(Normally costs about $37.)
Smooth continuous action, nice size and weight.
Knob = 1-3/4 inch diameter.
Knob#2: (Pictured Below): Amazon Link
Diveted/notched action, more compact, but still good weight.
Knob = 1-1/4 inch diameter.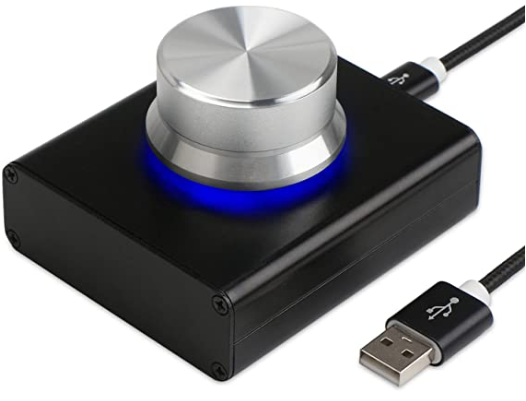 ---
PTT Adapter (USB DIY project)
A USB PTT adapter can be made that will allow a standard PTT switch to control the transmit and receive state of the radio from the RemoteTx web browser interface.
Also available in RemoteTx shop for $30.
---
iPad/iPhone USB Adapter
To plug these USB accessories into an iPad or iPhone a lightning port to USB adapter is needed. This 2 port model is available on Amazon, has been tested and works well with newer IOS devices (iPhone 10+, iPad 5th Gen+).
---
Putting it all together on an iPad
(A similar setup can be done on a Android, PC or Mac.)